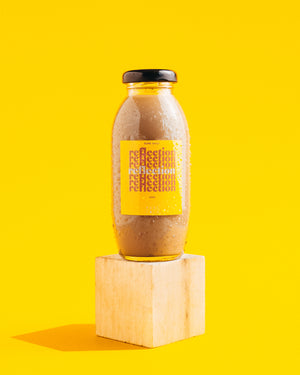 MadeCold Singapore
Hope / Self-care / Reflection / Unity
Sale price Price $30.00 Regular price
Oat milk is the right choice for people with allergies or intolerances. It's naturally free of lactose, nuts, and soy.
Oat Milk White - a very balance cold brew coffee. Using our Breaking Ground black brew with oat milk. No sugar. 
Matcha - high in antioxidant and blended with oat milk, this beverage makes you feel squeaky clean, our version of the modern Popeye. Low in sugars. 
Chai - An Indian tea with a whole mixture of spices and ginger. A beverage to awake your senses. Sweetened to bring out the flavors. Medium sweetness. 
Mocha - A permanent stable for many chocolate lovers. A blend using the creamy chocolate sauce and our breaking ground black cold brew. Medium sweetness. 
Shelf life: 10 weeks - 3 months
No preservatives. 
Need refrigeration 
Delivery is free at $50 and above.